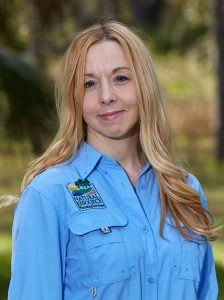 On behalf of Natural Resource Planning Services, I share the sad news of the loss of one of our NRPS family members.  Alicia Marie Campanella passed on November 6, 2018 at the young age of 42, due to medical complications.  She was a cheerful, kind, intelligent & passionate person.   Alicia, "Consulting Forester & Environmental Restoration Specialist",  was a true expert in invasive species ecology & the management of South Florida invasives species, something she studied & practiced with great concern & passion.
In addition to her mastery of invasive species ecology, Alicia had a propensity to deftly handle difficult issues when encountered, allowing projects to be well-managed despite challenges that might arise.  Her legacy will have a lasting impact on the natural landscapes of South Florida including Collier Seminole and Fakahatchee Strand State Parks, where she previously volunteered & worked (DEP) and consulted (NRPS).  She also loved the Big Cypress, where she would hunt, hike, and recreate with close friends.
Alicia periodically wrote a column in the Florida Land Steward on invasive plant/animal species.  I became aware of Alicia through Eric Hoyer (NRPS), who had previously reached out to her to see if he could reprint one of her articles for his column with the Citrus County Chronicle.  So, when I was looking for someone to help with South Florida invasive species projects, Eric suggested contacting Alicia.  After some emails and phone conversations, we immediately made a strong professional connection.  It was evident from the onset that Alicia was not only a talented forester/ecologist, but even more importantly, a person of great character qualities.  Soon thereafter, I made a Saturday trip to ECHO Global Farm in North Ft. Myers and invited her to join members of my family and me for a tour of this Christian Agricultural ministry – knowing this would be "right down her alley".  Alicia was well-traveled in her pursuit of forestry and environmental science knowledge having studied, volunteered, and worked in this country and abroad.  She also studied agriculture in the United Kingdom earning an internationally accredited qualification in organic farming practices.  The trip to ECHO Global Farm is where we made our first face-to-face meeting and our friendship began to grow.  In addition to NRPS staff, Alicia stayed in frequent contact with my son, Nate, who assisted her with IT support, and with other forestry consultants, especially Rick Davis of F4 Tech.  Alicia also touched the lives and hearts of public land managers, land management contractors, and many others in the forestry & environmental community.
Alicia will always be remembered, a life worth celebrating, and we look forward in faith to one day seeing her again.
Respectfully submitted in honor of a friend & gifted colleague,
John
John H Holzaepfel, ACF, CF, CA
Creating a Legacy, Growing Your Future Since 1974