There are a lot of factors that can impact your deer management: weather, habitat quality, neighbors, road kills, poachers, disease and even your fellow hunt club members. However, if you will use your trail cameras to intensively scout your property and focus your harvest on mature deer, you can grow great bucks here in Florida.
Advancements in trail cameras have helped focus our hunting time and effort. Cameras allow hunters to develop realistic expectations of the caliber of bucks on their hunting property and help you make a better harvest decision.
We run cameras year-round on our lease. We print out the buck pictures and post them at camp. It makes for a good comparison. The photos help to judge a nice buck who could use a few more years to grow from the true shooters. I have seen bucks add 20 inches of antler from one year to the next turning a nice 8-point into a real trophy. You will have to hunt these older bucks hard, and you risk not pulling the trigger. But the risk is worth the reward.
I have been watching this particular buck for two years. In 2016, he was a nice 8-point. He was probably a registry buck with just over 100 inches of antler. I actually found one of his 2016 sheds in a food plot last February.
He really exploded in 2017 though. I bet he added 30 inches of antler. He was living and feeding in an overgrown clear cut. It was full of preferred deer browse, and he was sucking it up. He had a thick layer of fat when I skinned him, surprising for a Florida buck.
He came out in the clear cut on 5:40 p.m. on October 31, an hour before sunset. He was all alone. I suspect he was out cruising for does. The second week of muzzleloader has some of the best rut activity on this lease near Jasper, Florida in Hamilton County.
We had a ladder stand setup in the area, but the wind wasn't right for it. So, I built a little homemade ground blind from logs and down limbs from Hurricane Irma the same afternoon that I harvested him. He stopped for a few seconds too long at 130 yards. He weighed 178 pounds and was 4.5 years old. Most of our hunt clubs complain about clear cuts, but not me.
Jeffrey M. Bewsher
Certified Wildlife Biologist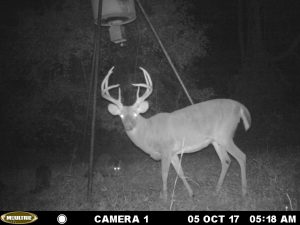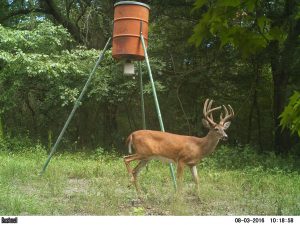 Click To Download Article